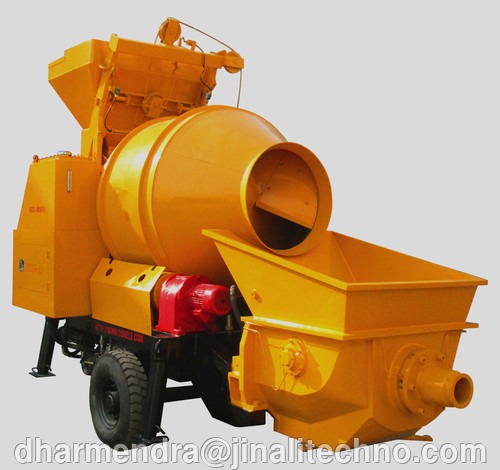 Concrete Pump with Mixer
Product Code : JT30
1800000 INR
Price And Quantity
Minimum Order Quantity

:

1
Unit of Measure

:

Piece/Pieces
Product Description
Concrete mixer pump is ideal equipment to transport concrete for large construction projects. Cement mixer pump combines the production and transportation of concrete together, which can realize the continuous transportation of concrete from sites to sites. Concrete mixing pump transports the concrete through pipes by making full use of pressures.
Concrete mixer and pump can realize the horizontal and vertical transportation of concrete quickly and continuously, which will greatly improve the working efficiency of your construction projects.
Â
Features and Advantages:
1. Its cleverly designed body can be operated easily and removed conveniently and flexibly. And it has stable performance;
2. It can mix by its own agitator. In harsh conditions, it has short auxiliary time to guarantee the mixing drag pump can operate perfectly.
 3. The mixing pump adopts double-cylinder full hydraulic pumping system with convenient and efficient operation, quick pumping speed and high efficiency work;
 4. It can be operated by one operator, because the automation degree is high. Equipped with remote control, it can be operated easily;
 5. The hydraulic system greatly improves the overall reliability of mixing drag pump;
 6. The whole machine was designed with economy, reliability, safety and durability to achieve fine motor performance and high equipment utilization rate.
Concrete Pump with Mixer export Kenya, Concrete Pump with Mixer export Uganda, Concrete Pump with Mixer export Tanzania, Concrete Pump with Mixer export Ethiopia, Concrete Pump with Mixer export Algeria, Concrete Pump with Mixer export Tunisia, Concrete Pump with Mixer export Nigeria, Concrete Pump with Mixer export Ghana, Concrete Pump with Mixer export Morocco, Concrete Pump with Mixer export Senegal, Concrete Pump with Mixer export Sudan, Concrete Pump with Mixer export Mauritius, Concrete Pump with Mixer export Botswana, Concrete Pump with Mixer export Malawi, Concrete Pump with Mixer export Gabon, Concrete Pump with Mixer export Liberia, Concrete Pump with Mixer export Sierra Leone, Concrete Pump with Mixer export Congo

Contact Us
Corporate Office Address -347, A1 A2, Joyos Hubtown, Mehsana, Gujarat, 384002, India