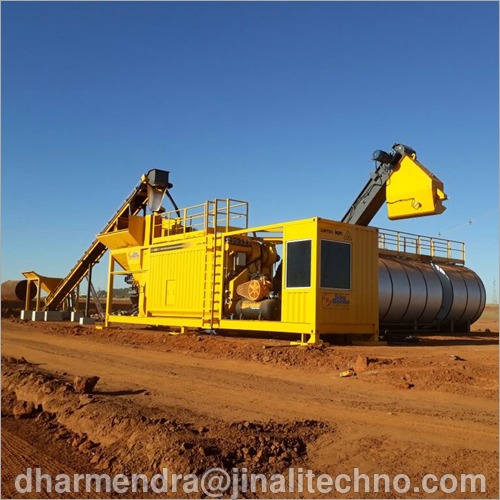 Containerized Asphalt Drum Mix Plant
Product Code : LX4000 C
Product Description
Containerized Asphalt drum mix Plant of 40 tph, containerized concept easy for transport and assembly in different regions or urban conglomerates. Foundation and loading ramp is not necessary.
Technical description:
- Main equipment in 01 40' HC container;
- 04 aggregates silos of 3m³ each one, with the aggregates load system (ALS);
- Individual dosing belt conveyor with load cels;
- Counterflow dryer with internal fins bolted fixing ring/body exclusive LINTEC-IXON;
- Burner with automatic actuation;
- External mixer type twin shaft;
- Drag slat elevator;
- Pulsating filtering system. High durability and low replacement cost;
- Ready mix silo (batcher);
- Full automatic control system by supervisory or manual;
- Tanking system standard 45.000 liters (30,000 L Bitumen + 15,000 L Fuel);
- Acclimatized control cabin.
Optionals:
- Asphalt Storage Silo;
- Container tank;
- Auxiliary equipments for aditives and filler;
Advantages:
- Flexible layout - no ramp necessary;
- Easily transportation by sea or land;
- Quicly assembly/disassembly;
- No foundation necessary;
- Suitable for quick works or maintenance for urban areas;
Containerized Asphalt Drum Mix Plant Export Kenya, Containerized Asphalt Drum Mix Plant Export Uganda, Containerized Asphalt Drum Mix Plant Export Tanzania, Containerized Asphalt Drum Mix Plant Export Ethiopia, Containerized Asphalt Drum Mix Plant Export Algeria,Containerized Asphalt Drum Mix Plant Export Tunisia, Containerized Asphalt Drum Mix Plant Export Nigeria, Containerized Asphalt Drum Mix Plant Export Ghana, Containerized Asphalt Drum Mix Plant Export Morocco, Containerized Asphalt Drum Mix Plant Export Senegal, Containerized Asphalt Drum Mix Plant Export Sudan, Mauritius, Botswana, Malawi, Gabon, Containerized Asphalt Drum Mix Plant Export Liberia, Containerized Asphalt Drum Mix Plant Export Sierra Leone,Containerized Asphalt Drum Mix Plant Export Congo
Contact Us
Corporate Office Address -347, A1 A2, Joyos Hubtown, Mehsana, Gujarat, 384002, India