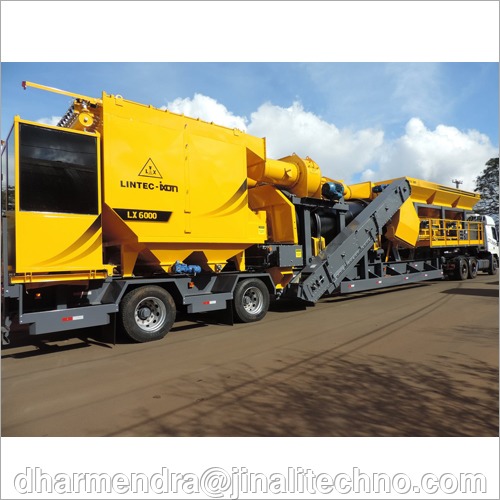 Mobile Asphalt Drum Mix Plant
Product Code : LX6000
Product Description
Mobile asphalt drum plant with production 40 to 60 t/h. This plant has automation, which enables emission of reports and remote access by internet to check failures, diagnoses or program updates.
Technical description:
- Plant on single chassis;
- 03 feed bins 6m³ each one. Fourth silo optional;
- Individual dosage conveyor for each silo with weigh bridge;
- Counterflow dryer with internal fins bolted fixing ring/body exclusive LINTEC-IXON;
- Burner with automatic actuation;
- External mixer type twin shaft;
- Drag elevator type Redler;
- Pulsating filtering system. The bag filter has a large filtration area (high durability and low replacement cost);
- Ready mix silo 1m³;
- Full automatic control system by supervisory or manual;
- Tanking system standard 60.000 liters (40,000 L Bitumen + 20,000 L Fuel);
- Acclimatized control cabin.
Mobile Asphalt Drum Mix Plant Export Kenya, Mobile Asphalt Drum Mix Plant Export Uganda,Mobile Asphalt Drum Mix Plant Export Tanzania, Mobile Asphalt Drum Mix Plant Export Ethiopia,Mobile Asphalt Drum Mix Plant Export Algeria, Mobile Asphalt Drum Mix Plant Export Tunisia, Mobile Asphalt Drum Mix Plant Export Nigeria,Mobile Asphalt Drum Mix Plant Export Ghana,Mobile Asphalt Drum Mix Plant Export Morocco, Mobile Asphalt Drum Mix Plant Export Senegal, Mobile Asphalt Drum Mix Plant Export Sudan, Mobile Asphalt Drum Mix Plant Export Mauritius, Mobile Asphalt Drum Mix Plant Export Botswana, Mobile Asphalt Drum Mix Plant Export Malawi, Mobile Asphalt Drum Mix Plant Export Gabon, Mobile Asphalt Drum Mix Plant Export Liberia, Mobile Asphalt Drum Mix Plant Export Sierra Leone,Mobile Asphalt Drum Mix Plant Export Congo

Contact Us
Corporate Office Address -347, A1 A2, Joyos Hubtown, Mehsana, Gujarat, 384002, India