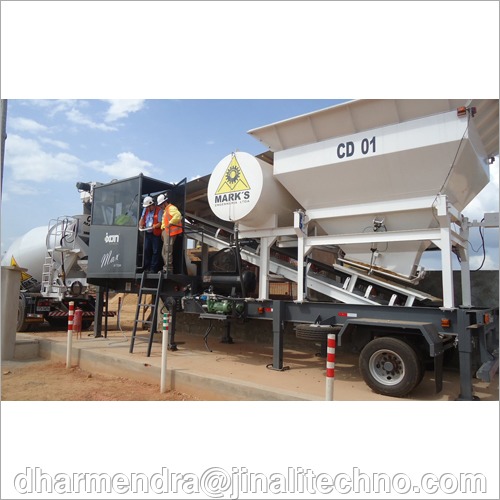 Mobile Concrete Batching Plant
Product Code : LG-TGM MAX
Product Description
Mobile concrete batching plant type LG TGM-MAX. It is an equipment of easy operation and quick installation. It is not necessary to do foundation, area of support ensures stability in a soil properly leveled and compacted.
Nominal production capacity:
Cement bag splitter - 20 to 30m³/h (provided without cement silo);
Cement dosage by weighing and cement silo - 30 to 40m³/h.
Technical characteristics:
- Aggregate weigh hopper of 10m³;
Aggregate control by the loader operator with visualization of the weight on the display;
- Aggregate weigh hopper with 04 load cells of 05 t;
- Discharge gate with open/close by pneumatic cylinder;
- Conveyor with discharge chute and scraper;
- The receiving hopper of the cement bag splitter with manual dosing control, prepared to receive the kit weighing (optional);
- Cement silo 80m³ (optional);
- Dosage of water and additive by flow meter;
- Water and additive control is programmed in the panel (automatic);
- Water tank;
- Box additive;
- Air Compressor;
- Plant mounted on mobile chassis;
- Control cabin with electrical panel and preparation for air-conditioning;
- Manual operation.
Mobile Concrete Batching Plant Export Kenya, Mobile Concrete Batching Plant Export Uganda,Mobile Concrete Batching Plant Export Tanzania, Mobile Concrete Batching Plant Export Ethiopia, Mobile Concrete Batching Plant Export Algeria, Mobile Concrete Batching Plant Export Tunisia, Mobile Concrete Batching Plant Export Nigeria, Mobile Concrete Batching Plant Export Ghana, Mobile Concrete Batching Plant Export Morocco, Mobile Concrete Batching Plant Export Senegal, Mobile Concrete Batching Plant Export Sudan, Mobile Concrete Batching Plant Export Mauritius, Mobile Concrete Batching Plant Export Botswana, Mobile Concrete Batching Plant Export Malawi, Mobile Concrete Batching Plant Export Gabon, Liberia, Mobile Concrete Batching Plant Export Sierra Leone, Mobile Concrete Batching Plant Export Congo

Contact Us
Corporate Office Address -347, A1 A2, Joyos Hubtown, Mehsana, Gujarat, 384002, India